Life Style
All You Can Eat Ifthar Meal at Ciptaningati Hotel Batu for only IDR 35 K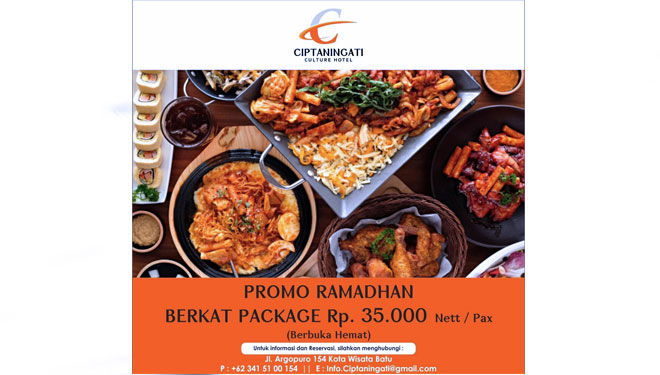 BATU,TIMESJAZIRAH – Have you get the place to break your fasting? Or, are you still busy choosing which place will give you the best offer? Well, well, you dont need to be confused. Ciptaningati Hotel or Hotel Ciptaningati Batu will give you the best offer for Ramadhan.
The Ciptaningati hotel offers their customer with a interesting break fasting package. You can get a set of all you can eat ifthar meal for only IDR 35 K and a free dates for appetizer.
Located at Jl Argopuro No. 154 Batu this restaurant will make your break fasting time be more enjoyable with all the dishes. Appetizers, soup, main course, and dessert will be provided as your ifthar feast.
Beside the super cheap breakfasting package, the hotel also offer an interesting stay package during Ramadhan. You could stay at superior room for around IDR 359 K, including the ifthar meal and early breakfast for 2.
For further information about the Ramadhan package at Hotel Ciptaningati or Ciptaningati Hotel Batu you could contact +62341 5100154 or via WhatsApp on +6281336515729.(*)