News
Impressed by Amazing Blitar, Middle Eastern Countries Ready to Step Up The Relationship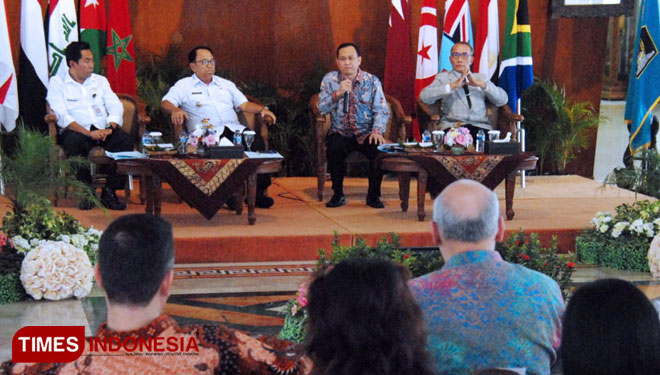 BLITAR,TIMESJAZIRAH – The grand ambassadors and diplomat from some middle eastern countries seems really impressed by the tourism promotion of Amazing Blitar, therefore they ready to step up the diplomatic relationship.
On Wednesday (6/3/2019), The Foreign Ministry bring five grand ambassadors and four diplomatic official from middle eastern countries to Blitar through Diplomatic Outreach 2019 programme.
Those are Abdullah Hasan Saleh Alaawr (Iraq), Ahmed Amr Ahmed Moawad (Egypt), H E Quadia Benabdellah and Mr Omer El ASLI (Morroco), Abdallah Suliman Abdallah Abu Romman (Jordania), Isaac Garce (Fiji), Chaker Ammar (Tunisia), Hamad Khalid SM Al-Sheaibi (Qatar), Hilton Fisher (South Africa) and Abdulhani Nassr Ali Alshamiri (Yemen).
The Regent of Blitar, Drs H Rijanto, MM welcome the visit of those middle eastern countries grand ambassadors to his region. "Because it's their very first visit here. This is a positive activity to form cooperation with the region as a continuation from interstate cooperation," he said.
Rijanto said that the region of Blitar need investors in the the field of agricultures, farms, fisheries, and also cooperation on labour and education. As his mission and vision as the regent, Rijanto said that Blitar want to be more prosperous, advanced and competitive.
And those hopes are fulfilled, with staff of Foreign Ministry Director, Jayadikarma said on Saturday (9/3/2019), that some of those grand ambassadors and diplomat expressed their will to continue the cooperation with the District of Blitar, though it did not said in which field those cooperation will be.
Director of Middle East Affair at Foreign Ministry, Sunarko as the leader of Diplomatic Outreach 2019 group, added that this program is conducted to ground the Indonesian diplomacy. It hoped to become more known through the direct understanding from people about what the government do right now.
Those grand ambassadors and diplomat may already back at Jakarta, but the hope is sprung from their impression and they ready to step up the diplomatic relationship with The District of Blitar who has Amazing Blitar app on their tourism promotion. (*)