Travel
Gembira Loka Zoo was Crowded with Tourists on the Day of Silence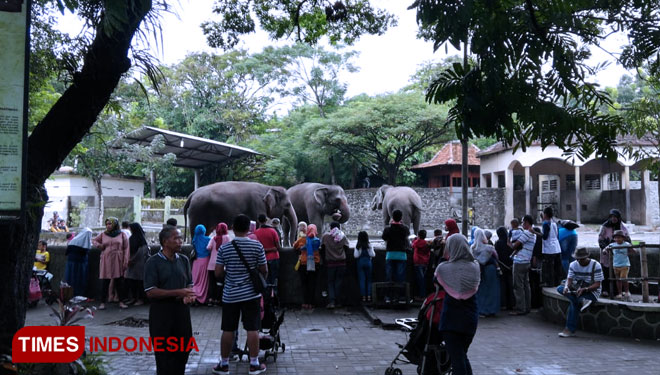 YOGYAKARTA,TIMESJAZIRAH – The tourism destinations in Yogyakarta have attracted the people from outside the city. This could be seen from the enthusiasm of the people from outside Yogyakarta who were visiting Yogyakarta on Nyepi (Day of Silence), Thursday (7/3/2019).
The cloudy weather and the drizzle at some regions in Yogyakarta did not become a hindrance for the tourists to have a vacation. They were crowding the tourism objects in Malioboro, Kebun Binatang Gembira Loka (Gembira Loka Zoo), Merapi Museum, Parangtritis Beach in Bantul, Baron Beach, Kukup Gunungkidul, and the list goes on.
A tourist from Denpasar, Bali, Martati Ladi, said that in this Day of Silence, she decided to go on a vacation with her family because there was no activities in Bali.
"Actually, I am from Sumatera. But I currently live in Denpasar, Bali. Today I decided to go to Yogyakarta to have a vacation with my family," said Martati when she was vising Gembira Loka Zoo along with her family.
According to Martati, she chose Yogyakarta as her tourism destination on the Day of Silence, because she wanted to have an educational vacation for her children.
"I know that Yogyakarta has some educational tourism destinations, and my children are happy with that. I have been there twice," said Martati.
The Spokesman of Gembira Loka Zoo, Eros Yan Renanda, said that the visitors on Wednesday, 6 March 2019, have reached up to 9,000 visitors.
"On this Day of Silence, the number of visitors decreased into 7,000 visitors due to the cloudy weather," said Renanda.
Meanwhile, the Day of Silence celebration in Yogyakarta has been started since the middle of February 2019. (*)