Sports
Indonesia National U-22 Team scored draw in the premiere match VS Myanmar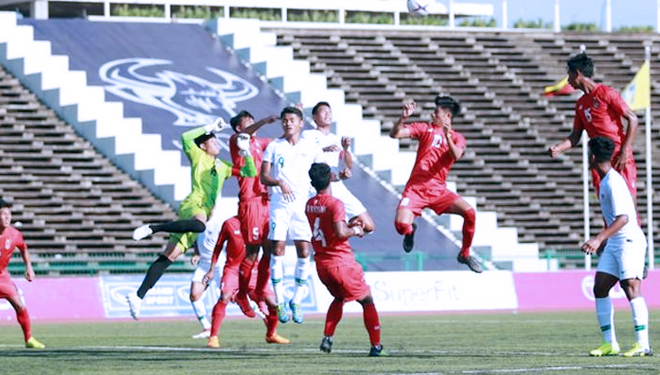 JAKARTA,TIMESJAZIRAH – In the Group B of the AFF U-22 Championship 2019, Indonesia national U-22 team played in the premiere match against Myanmar at Pnom Penh National Stadium, Cambodia. Both teams played draw, Monday (18/2/2019).
Myanmar successfully has scored a goal to Garuda team's goalkeeper in the 13th minutes of the first half.
It happened when Kaung Khant Myat stood freely in the Garuda team's penalty area. Then, he immediately shot a kick which couldn't be anticipated by the goalkeeper, Awan Seto. The score was 1-0 for Myanmar.
Left behind by one goal, making Indonesia continue to launch attacks, The Garuda team had finally been able to equalize goal in the 35th minute. It was because Rachmat Irianto took advantage from M Lutfhi Kamal's kick corner. The ball's speed entry the Myanmar team's goal and it closed the first half with a score of 1-1.
Entering the second half, Indonesia national U-22 football team played aggressively. A number of opportunities successfully got by the Garuda team. One of the opportunities was created by Asnawi in the 59th minutes.
Asnawi managed to penetrate Myanmar team's defense. Unfortunately, the kick was not accurate, so it failed to add a score for Indonesia. The score 1-1 ended until the last minute.
The draw score 1-1 between the Indonesia national U-22 team vs Myanmar made both of the teams have to share 1 point. In the next Group B match, the Indonesia national U-22 team will play against the Malaysian team on Wednesday (20/02/2019). (*)