News
Princess Meganondo, the New Queen of Miss Indonesia 2019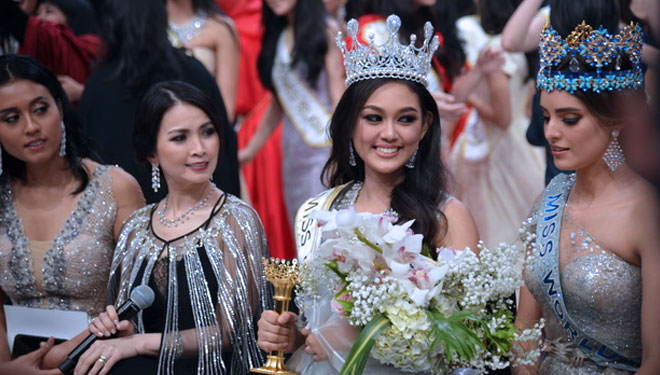 JAKARTA,TIMESJAZIRAH – The coronation day has come for the new Miss Indonesia. After having a tight selection Princess Mikhaela Audrey Meganondo (Princess Meganondo) from Jambi officially crowned as Miss Indonesia 2019 last night.
The crown was pinned by the outgoing queen Miss Indonesia 2018, Alya Nurshabrina toghether with Vanessa Ponce as Miss World 2018.
On the top three 3 there was Miss Jambi it self and her two competitor Miss Sulawesi Utara, Sharon Margriet dan Miss Banten, Elisa Jonathan.
"And Miss Indonesia 2019 goes to, Miss Jambi Princess Mikhaelia Audrey," Daniel Mananta the mc of the event announced the winner of Miss Indonesia 2019.
Princess Meganondo with her beautiful shiny night gown widely smiling and wave her hand as she did her first step as the queen of Miss Indonesia 2019 on MNC Studios Kebon Jeruk, Jakarta Barat, Saturday (16/2/2019). (*)