Education
Unipma Welcomed the International Student of SEAMEO Program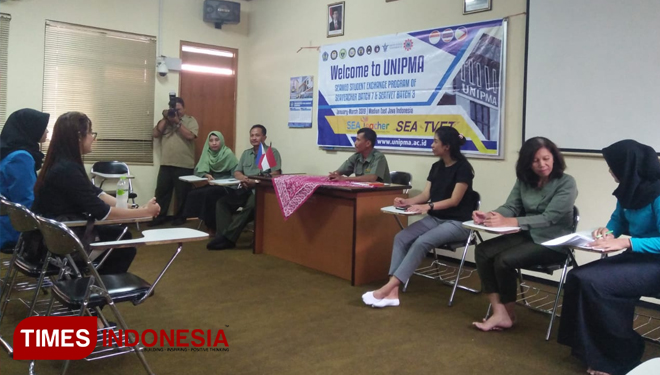 MADIUN,TIMESJAZIRAH – Universitas PGRI Madiun (Unipma) welcomed the international students named Jackielyn Lapuz Deguzman. Jackielyn is the last international student of SEAMEO Student Exchange Program of SEA-Teacher batch 7 and SEA-TVET batch 3 for January – March 2019.
The international student from Nueva Ecija University of Science and Technology, Philipina, was welcomed by the Vice Rector I of Unipma, Dr. Dwi Setyadi, M.M in the event of Welcome to Unipma on Monday (11/02/2019).
The event held in Microteaching room 1 on the third floor of Unipma, was attended by some lecturers and 'buddies' (the international student companion) that are going to accompany the international student during her visitation in Unipma.
"You are the last participant of this program. Welcome to the club and become the part of the big family of Unipma," said the Vice Rector I, Dwi Setyadi, in his speech in English.
Dwi expected that the international student could adapt well in Unisma. He also gave some suggestions and advice so that the international student exchange could be successful.
Jackielyn looked very happy and enthusiastic. She was also given some information about the campus and the program that she would be joining. She was also introduced to the 'buddies' by Lusia Kristiasih Dwi P., S.S., MA. It was expected that this international student from Philipina could adapt well and start this SEAMEO program. (*)