News
Oxone, Domestic Home Appliance Products with International Quality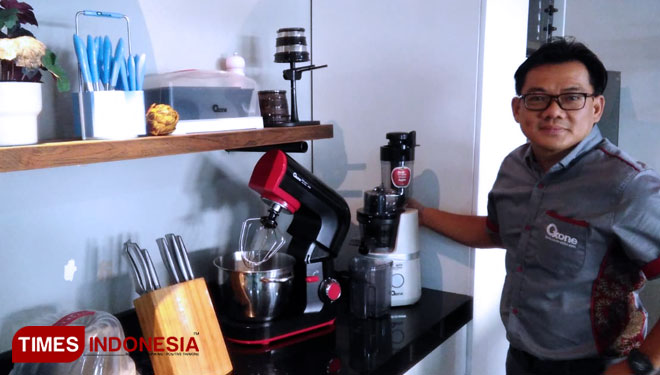 JAKARTA,TIMESJAZIRAH – One of the largest domestic and biggest brands of home appliance products in Indonesia, Oxone continues to innovate and expands its wings in producing a variety of household appliances of international quality and it is liked by the public.
Engaged in home appliances, Oxone presents domestic products with overseas models.
PT Octa Utama through Oxone is very concerned with the model side, the dominant variants and bright colors and with undoubted quality. Therefore, it is not surprising, if currently Oxone has succeeded in becoming the top of mind of the community.
"Our products range from Juicers, Oven Toaster Mixers, Kitchen Knives and Presto Pans. We also won several awards in 2018. Namely the Top Brand Award 2018, Social Media Award 2018 and also the Indonesia Digital Popular Brand Award 2018, which is a prestigious Award for all brands, "said PT Octa Utama Director, Ifan Kesuma, to the Times Indonesia on Thursday (20/12/2018).
Oxone products such as juicers, oven toasters mixers, kitchen knives and pressure cookers have won several awards in 2018, such as the Top Brand Award 2018.
Then, they also got the award at the Social Media Award 2018, Indonesia Digital Popular Brand Award 2018, which is a prestigious award for all brands in Indonesia.
He explained, starting from the agency system involving housewives, Oxone, which was released in 2001, is increasingly developing and attracting public attention through digital media.
Realizing that digital media is currently very influential on a brand and has a very broad market target, Oxone is increasingly active in social media by presenting quality content through attractive posters or advertisements.
"Even though digital media is able to make Oxone's name stronger, Oxone will continue to use an agency system that involves housewives, and sales promotions placed in modern markets," he said.
In 2014, Oxone also made breakthrough activities such as below the line through the 'Battle Chef' event, which is expected to break Oxone's success in the future.
"Battle Chef is a promotional activity that invites the Chef Junior community to bring in 10 junior chefs and Chefs as jurors. This breakthrough is proven to be able to provide a fantastic effect for Oxone's development," Ifan added.
In order the target can be grabbed, Oxone conducts marketing activities by fostering sales promotion to participate in modern exhibitions.
In addition, Oxone also maintains good relations with distributors and partners. Up to now, Oxone's turnover growth reached 20 percent each year.
"In the future, Oxone will continue to expand its distribution to reach all regions of Indonesia. In addition to strengthen the market in digital media, innovations will also continue to make to offer the highest quality products, to millions of families in Indonesia," he concluded. (*)