News
UIN Malang Becomes the Pilot Project of E-SMS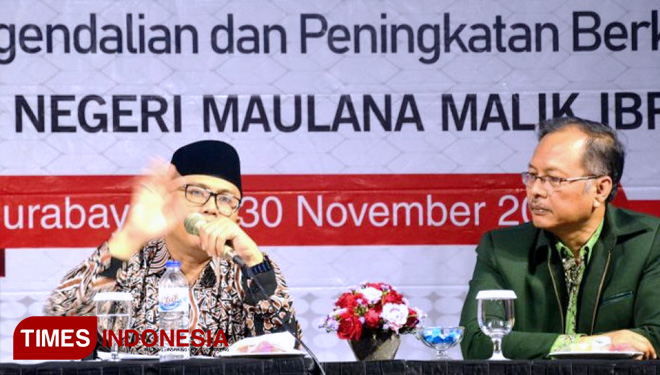 MALANG,TIMESJAZIRAH – The Director of Islamic Higher Education, Ministry of Religious Affairs (Diktis Kemenag), Prof. Dr. M. Arskal Salim GP, M. Ag, attended the Management Review Meeting of UIN Malang on Wednesday (28/11) in Surabaya. He appreciated UIN Malang for being in the best three of PTKIN.
Therefore, his party entrusted UIN Maulana Malik Ibrahim Malang to become the pilot project of the E-SMS (Electronic Strategic Management System) application in PTKI.
This program is the effort of Diktis to support PTKI to have accurate and reliable data. "We should improve the administration by updating the data frequently, such as the data of the number of students, lecturers and the education staff," he said.
"If the institution applies E-SMS, the fast data update will be required in a second. For all this time, there are so many PTKI that have no reliable and valid data," he added.
Meanwhile, the Rector of UIN Malang, Prof. Dr. Abd. Haris, M. Ag, emphasized that the usage of E-SMS is not only for fulfilling the needs of certain individuals or the institution, but also for fulfilling the needs of all the members to get and present the accurate and valid data.
"We should start working smart, fast, and right to the target. If there is something wrong in the process, I will fix it," said the Rector of UIN Malang. (*)